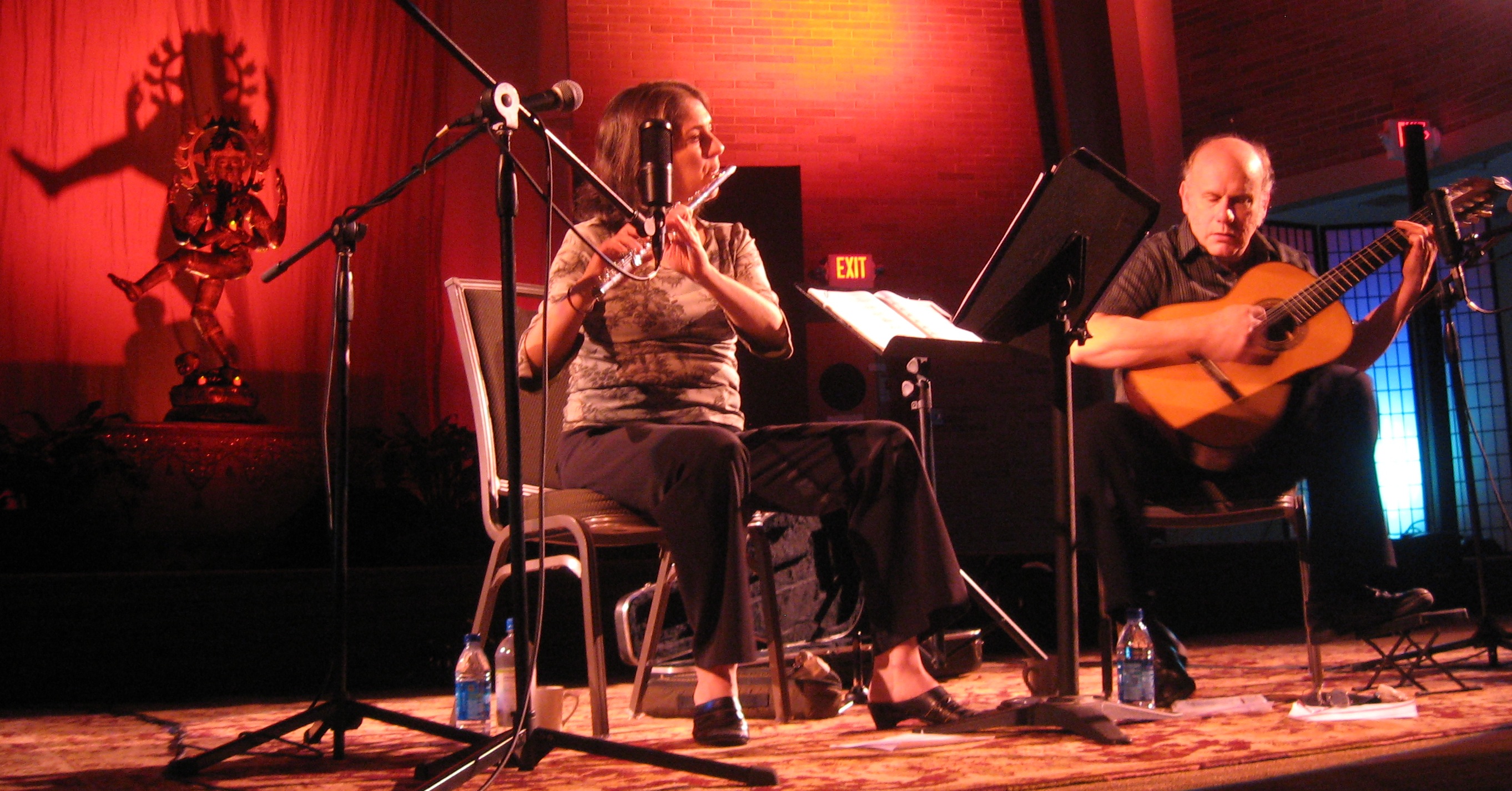 Sarah and Joe making the Kripalu Center stage their om away from om.
WHAT THE MEDIA HAVE SAID ABOUT DÚO FUSIÓN
---
"Audiences have been enthralled by Dúo Fusión's blend of jazz, Dick Dale-style surf, Celtic, bossa nova, tango, and rock. The duo is incessantly on the hunt for new, 'out there' songs and elements to incorporate into their repertoire."
—Matthew Dube, The Valley Advocate (for the full article, click here)
"The group's self-titled debut CD has a melting pot modus operandi where compositions by Fauré and Bach play off those by Miles Davis and Chick Corea, as well as traditional folk songs from various cultures. The spacious recordings give each musician plenty of places to shine, like in Belmont's graceful intro to Luiz Bonfa's classic 'Manha de Carnaval' and Swersey's dizzyingly nimble runs that punctuate 'Entr'Acte.' "
—Ken Maiuri, The Daily Hampshire Gazette
"Credited most often to [Miles] Davis but performed many more times on record by [Bill] Evans, 'Nardis' exists as fabulous love child of these two profound musical worlds. Dúo Fusión takes what was imagined as a water color, sharpening it into a clear digital focus with Swersey's tart flute, while retaining the pastels with Belmont's thoughtful voice. The effect is a very clear picture of what both Evans and Davis intended."
—C. Michael Bailey, All About Jazz (for the full CD review, click here)
"Belmont is an exceptional guitarist. When you see Belmont play, he looks like he is cradling the instrument like it is a living thing and he is fascinated to see what sound it will make next."
—Johnny Memphis, The Daily Hampshire Gazette
"Sarah Swersey's playing of the silver flute could literally hold you spellbound."
—Bill Binkelman, KFAI-FM, Minneapolis
WHAT LISTENERS HAVE SAID ABOUT DÚO FUSIÓN
---
"Just want to say that your concert was the highlight of First Night."
—Russ N., Northampton, Mass.
"Joe Belmont and Sarah Swersey were absolutely wonderful. The music was gorgeous. We had many musicians at our wedding, and they raved about the beauty of the music."
—Alison M., Great Barrington, Mass.
"Terrifically talented musicians, playing everything from true classical duets (actually played Bach flute/guitar concertos!) to Brazilian bossa nova to Andes flute music to jazz to Simon and Garfunkel. In short, music to delight everybody in the room. Highly recommended and will definitely hire them again for my son's wedding!"
—Michael L., Amherst, Mass.
"Our party was exceptional because of these two musicians. They delivered impeccably, from the exacting classical pieces to the improvisational sections of their jazz and rock adaptations. Dúo Fusión would be great for any occasion, from the various wedding festivities to dinner parties to holiday gatherings. They will enchant you and your guests!"
—Elena C., Florence, Mass.
"The guests all commented on how great the prelude music was as they waited for the ceremony to begin. We were so pleased with how everything came together. Thank you!"
—Lauren H., Northampton, MA
"Joe and Sarah are unbelievably talented and incredibly accommodating. Dúo Fusión went above and beyond at my wedding. I would recommend them to anyone."
—Erin G., South Windsor, Conn.